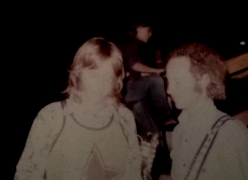 Venue Address: 250 Huyshope Ave. - Hartford, CT


Promotion: Cable Music Presents
Event: In Concert

Also Performing:
The Beach Boys
The Kinks
Phlorescent Leech & Eddie

Setlist:
Tightrope Ride
The Mosquito
Light My Fire
Love Me Two Times

Recordings / Film:
Unavailable

Photographers:
Robert Bacjand

Reviews / Info:
-7:00pm scheduled start time.
-Approx. 14,000 in attendance.
-Rain delays The Doors performance for more than an hour following The Beach Boys.
-The Doors performance is cut short due to city curfew.


"I saw them at Dillon Stadium, Hartford, CT Aug. 18, 1972. Flo & Eddie opened the show, followed by The Kinks. Then the skies opened with rain, and there was an hour and forty minute delay before The Beach Boys took the stage. Their long set left only 20 minutes for The Doors before city curfew kicked in. I believe they played "Tightrope Ride", "Mosquito", "Light My Fire", and "Love Me Two Times"...that was it. I remember a city official standing onstage at 12:50 am announcing the 1 am curfew. They allowed the Doors an extra 10 minutes or so beyond that, since by then most of the crowd had already gone home.

My friend got backstage and took a few photos which I still have. I had just turned 14 in June, and always carried my trusty 126 Insta-matic camera around...except this night. I guess I just forgot it. My friend brought his, however, and I still have two of the photos. They're way over-flashed...sorry. Darned if I can find the tickets though. I think maybe they ended up in my girlfriend's denim jacket."


Robert Bacjand
Hartford, CT
Copyright © 2014 Robert Bacjand

A Special Thanks to Robert Bacjand for providing his review of the concert to MildEquator.com!


ARCHIVE/MEMORABILIA:
---
TICKET: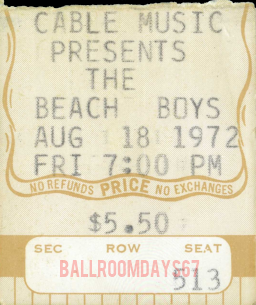 Contributed By:
BallroomDays67
---