Venue Address: Kensington Gore - London, UK
Promotion: N/A
Event: In Concert

Also Performing:
The Jefferson Airplane

Info:
-The Doors are tentatively scheduled to perform Easter weekend at the historic Royal Albert Hall in London.
-A performance at the Sonoma County Fairgrounds takes place on this date.
-The Doors re-schedule with the Jefferson Airplane for September 6th and 7th at the London Roundhouse.


ARCHIVE/MEMORABILIA:
---
ARTICLE:
Newspaper:
KRLA Beat
Author:
Editor
Publish Date:
March 23rd - 1968
Copyright © KRLA Beat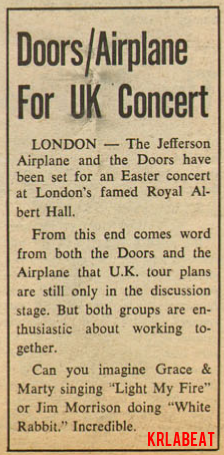 Contributed By:
KRLA Beat
---