Venue Address: 1145 East Adams St. - Jacksonville, FL
Promotion: Unknown
Event: In Concert

Also Performing:
Unknown

Info:
-The Doors return from vacation in Jamaica to find out this show has been cancelled.
-This performance is cancelled by Hans Tanzler, the mayor of Jacksonville for the recent Miami incident.
-This is the first of many performances to be cancelled due to Miami.


ARCHIVE/MEMORABILIA:
---
SCHEDULE: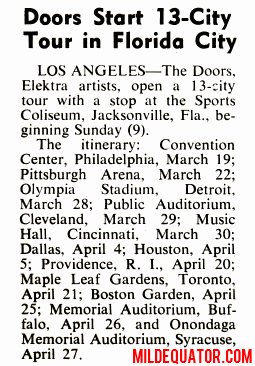 ARTICLE:
Newspaper:
Hesse Stars & Stripes
Author:
Unknown
Publish Date:
March 7th - 1969
Copyright © Hesse Stars & Stripes

---