Venue Address: 777 Ward Ave. - Honolulu, HI
Promotion: Dick Clark Enterprises/KKUA

Also Performing:
Unknown

Info:
-Sources indicate performances at the H.I.C. were scheduled for July 4th & 5th.
-This performance is cancelled due to the circumstances regarding The Doors performance in Miami on March 3rd.
-The Doors are the first rock group to be banned in Honolulu.
-Another performance scheduled for July 5th at Sick's Stadium in Seattle is cancelled.


ARCHIVE/MEMORABILIA:
---
ARTICLE:
Newspaper:
Seattle Times
Author:
Unknown
Publish Date:
June 14th - 1969
Copyright © Seattle Times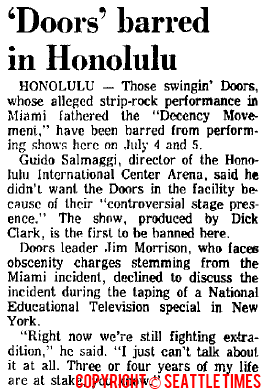 ---