Venue Address: S. McClellan St. & Rainier Avenue S. - Seattle, WA
Promotion: Watchtower Inc.
Event: In Concert

Also Performing:
Taj Mahal
Unknown Band(s)

Info:
-7:00pm scheduled start time.
-Outdoor performance.
-General Admission tickets are to be sold in advance and at the door for this show.
-This performance is cancelled due to the circumstances regarding The Doors performance in Miami on March 3rd.
-An attempt appears to have been made to schedule shows at the H.I.C. on July 4th & 5th following this show's cancellation.
-The Doors play the Seattle Pop Festival later on July 27th.
-Sick's Stadium is torn down in 1979.


ARCHIVE/MEMORABILIA:
---
TICKET #1: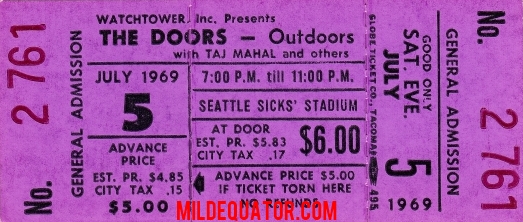 Scan By: MildEquator.com
TICKET #2: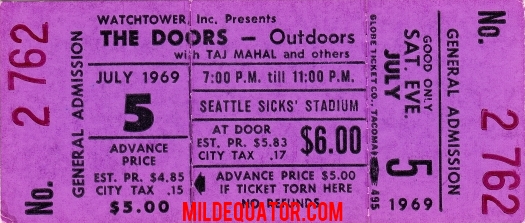 Scan By: MildEquator.com
---