Venue Address: 100 S. West Temple - Salt Lake City, UT
Promotion: West Coast Promotions
Event: In Concert

Also Performing:
Unknown

Info:
-A phone call interview with Robby Krieger is recorded for FM broadcast in Salt Lake City to promote the show.
-The Doors are required to pay a $10,000 deposit to the Salt Palace in order to play this show.
-Salt Palace manager Earl Duryea attends The Doors performance in Boston the night prior to this show.
-After viewing The Doors performances in Boston, Earl Duryea cancels tonight's show at the Salt Palace.
-Records indicate that Earl Duryea was keeping a tally of offensive words used by Jim Morrison during the Boston performance.
-Ray Ward of Oakland Coliseum in California writes to Earl Duryea to call him "CHICKEN!".
-The Salt Palace announces their intention to refund $18,000 in ticket sales.


SALT PALACE RADIO CALL-IN
---
Broadcast Date: Exact Date Unknown - April 1970
Station ID: KRSP - 103.5FM/1060AM
Programming: Unknown
Host: Michael G. Kavanaugh
Recording Date: Exact Date Unknown - April 1970
Recording Location: Various

Info:
This phone-call interview with Robby Krieger appears to have been recorded in April 1970 by DJ and radio-host Michael G. Kavanaugh for KRSP in Salt Lake City, and may or may not have been broadcast live. The interview is later incorporated into a radio special airing on KRSP shortly after the death of Jim Morrison. Leon Barnard conducts the phone-call from The Doors rehearsal space and can be heard briefly on the recording.


ARCHIVE/MEMORABILIA:
---
ARTICLE #1: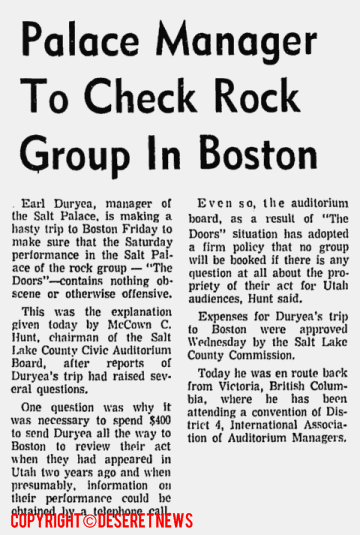 ARTICLE #2: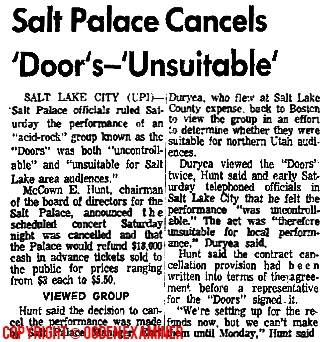 ARTICLE #3:

ARTICLE #4: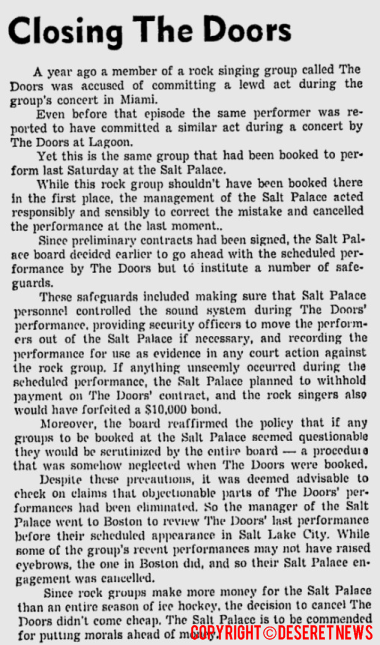 HANDBILL: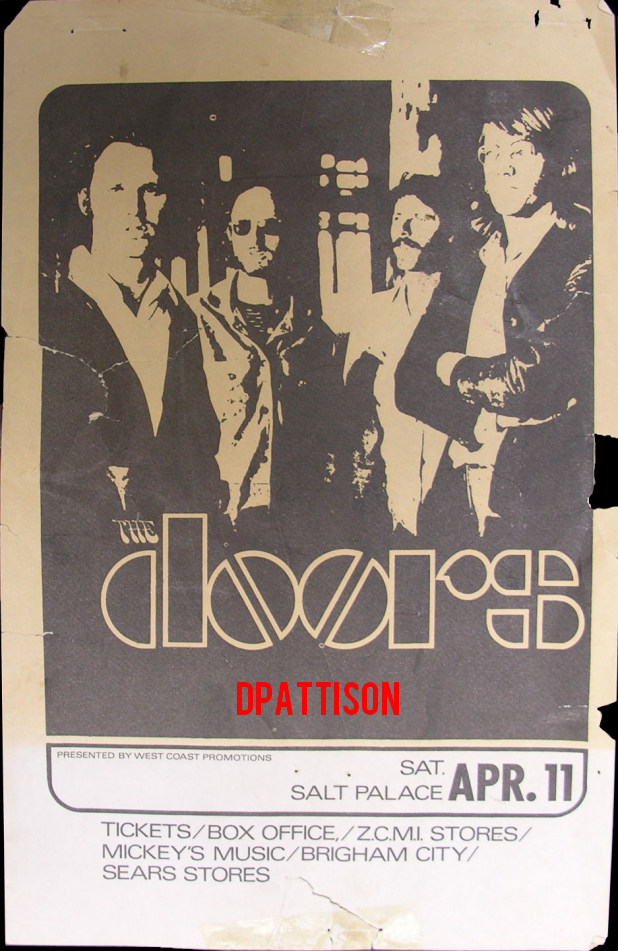 Contributed By: DPattison
---