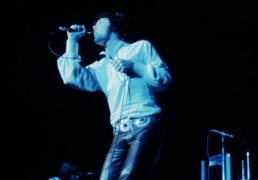 Venue Address: 650 S Griffin St. - Dallas, TX


Promotion: Anderson-Biel Productions
Event: In Concert

Also Performing:
The Moving Sidewalks

Setlist:
Soul Kitchen
-Pray The Lord
Back Door Man >
Five To One
Break On Through
-There You Sit
The Crystal Ship
Texas Radio And The Big Beat
Hello, I Love You
Moonlight Drive
Money
When The Music's Over
Wake Up!
Light My Fire

Recordings / Film:
16mm Professional Film - 'Feast of Friends'
Amateur/Audience Recording

Photographers:
Unidentified (Amateur & Professional)

Reviews / Info:
-This is The Doors second performance in Texas.
-8:00pm scheduled start time.
-Approx. 9,000 in attendance.
-The Moving Sidewalks feature pre-ZZ Top guitarist Billy Gibbons.
-Setlist includes the earliest known live performance of 'Texas Radio And The Big Beat'.
-Performance footage is shot for 'Feast of Friends'.
-An audience members captures this show on tape.
-The Doors 1969 performance in Dallas is cancelled due to Miami.
-The Doors return to Dallas in 1970 for two shows.


---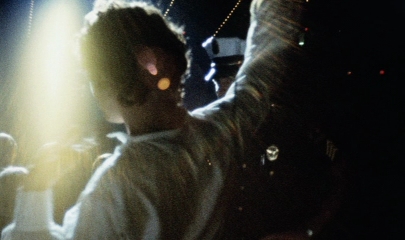 Info:
Very little performance footage is captured at the Dallas Memorial Auditorium on July 9th, 1968. Various clips from this filmwork can be seen throughout The Doors official releases.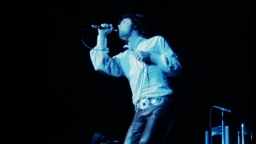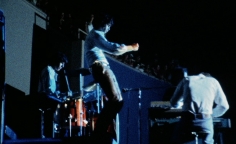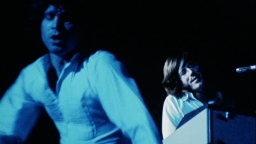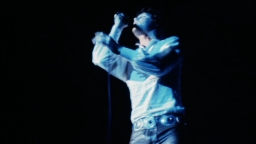 ARCHIVE/MEMORABILIA:
---
PREVIEW:
Newspaper:
Dallas Notes
Author:
Editor
Publish Date:
July 7th - 1968
Copyright © Dallas Notes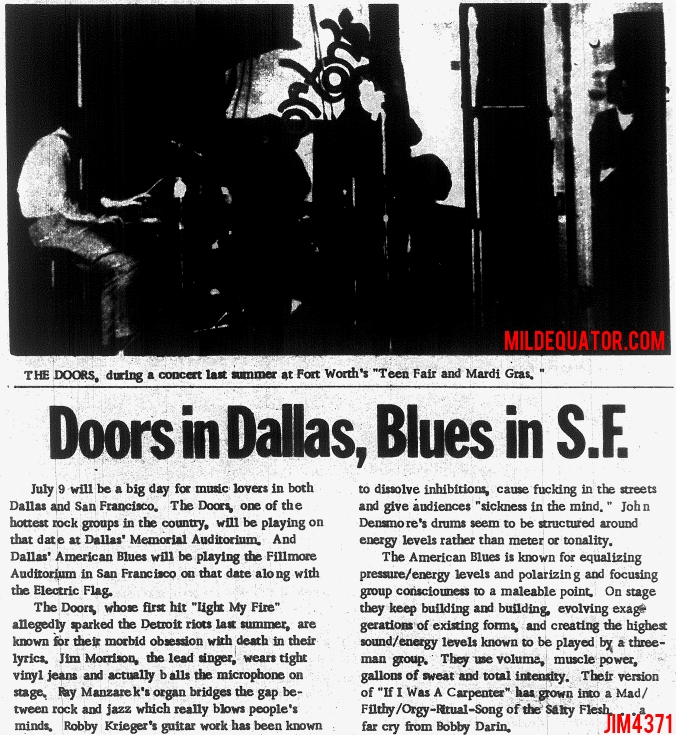 Contributed By:
jim4371
REVIEW:
Newspaper:
Dallas Notes
Author:
John Marken
Publish Date:
July 14th - 1968
Copyright © Dallas Notes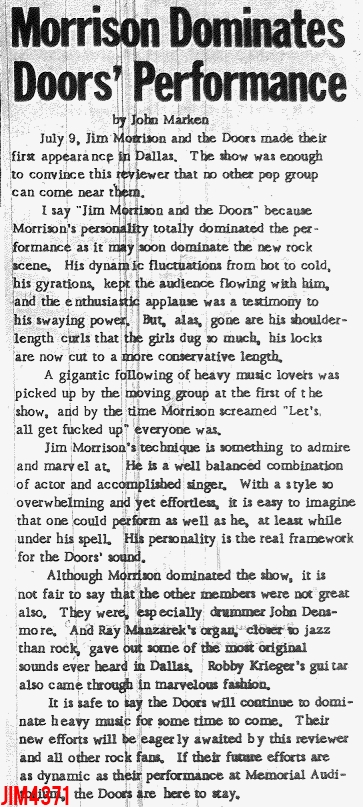 Contributed By:
jim4371
HANDBILL: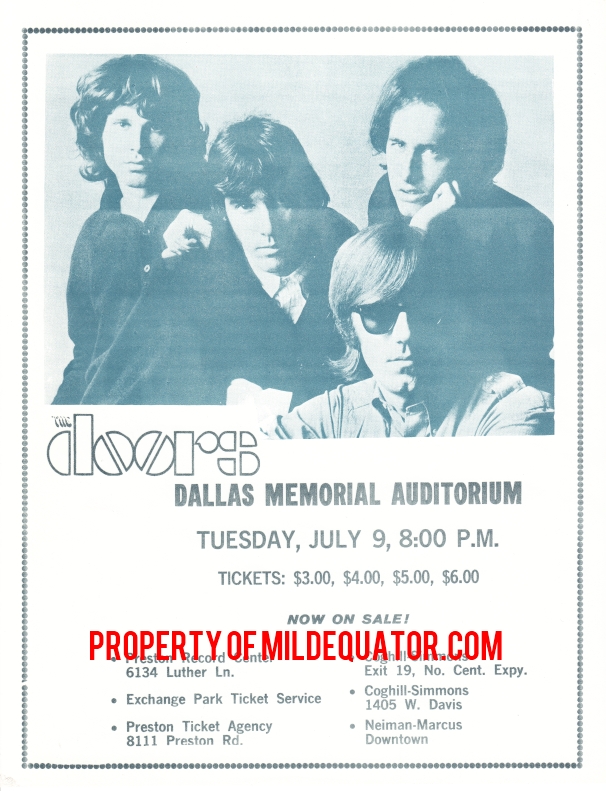 Scan By:
MildEquator.com
TICKET #1:

Contributed By:
BallroomDays67
TICKET #2: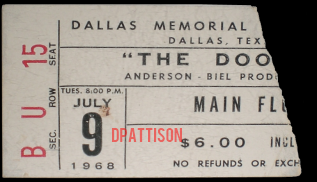 Contributed By:
DPattison
TICKET #3: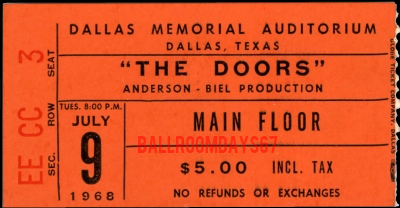 Contributed By:
BallroomDays67
---